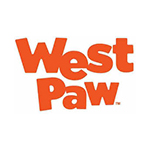 Description
It's a ball. It's a stick. It's a bone. And it's a major bestseller. Dogs love it for gnawing and fetching ; owners like the easy dishwasher clean-up.
Like all of our Zogoflex® dog toys, Hurley® is recyclable and made in the U.S.A., Certified Safe and Guaranteed to Last.  
Dog toys made from Zogoflex® material are the best of everything.  Really!  These toys are durable. They aren't rigid, so they are gentle on teeth. They float. They are eco-friendly. Most important, they are FUN! 
Not only is our Zogoflex BPA-free, phthalate-free and non-toxic, it's FDA compliant—important when toys come in such close contact with your pet. 
Zogoflex® packs a long lifespan. If for any reason it doesn't, we offer a free one-time replacement.